Your Dentures and You – Make Eating and Talking Easier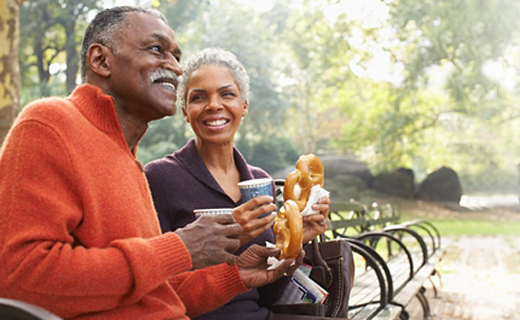 Tooth loss has tragic effects on your self-esteem, and it can even affect your ability to speak and eat correctly. Fortunately, affordable quality dentures can help. They do more than just restore your dazzling smile; they let you talk without embarrassment, and enjoy foods you might have previously abandoned. Learning to adjust to wearing dentures takes time and patience, but with practice, you'll soon be able to eat and speak well. The following tips can help you adapt.
The Challenge of Eating with Dentures
When you're just starting out, choose foods that are easier to chew, such as eggs, cheese, chopped meat, fish, cooked fruits and vegetables, puddings, yogurt, and ice cream. Take small bites and chew your food slowly. When possible, avoid biting down with your front teeth. Stay away from chewy foods like caramel, and don't bite into hard candy or ice. Eating will feel different at first, but the process should become more comfortable in a few weeks. After three months, start adding more types of foods to your diet, including those that are harder to chew.
Tips for Smoother Talking
If pronouncing words with confidence is a challenge, don't worry; you're not alone. It's not unusual to have some minor speaking difficulties when you first start wearing dentures. Many people have problems with words that start with the letters S and F. To make it easier, practice speaking out loud when you're alone. Try reading a newspaper article in front of a mirror. Another helpful trick is biting down and swallowing right before you start talking; this practice sets your dentures in place. In time, both talking and eating will seem perfectly natural to you.
To get the dental care you deserve from an affordable dentist in Virginia, call Dental One Associates of Virginia today at or make an appointment.
Dental One Associates offers affordable family dentistry and gentle, compassionate dental care in Virginia. With 6 affiliated practices throughout Virginia, our offices are conveniently located with extended hours to meet your needs. At Dental One Associates of Virginia, we provide most dental services, from basic preventative care and general dentistry to specialized procedures and complete dental reconstruction. We accept most dental insurance plans and offer affordable financial solutions for any budget. Patient satisfaction is our top priority and we strive to provide the exceptional, affordable dental care and personal touch that lead to lasting relationships. A smiling patient is our greatest reward and we look forward to keeping those smiles healthy, beautiful, and bright. Discover an affordable dentist who truly cares at Dental One Associates of Virginia.