Posted under:
General
Posted on: November 24, 2013
There's No Excuse Not to Use Dental Floss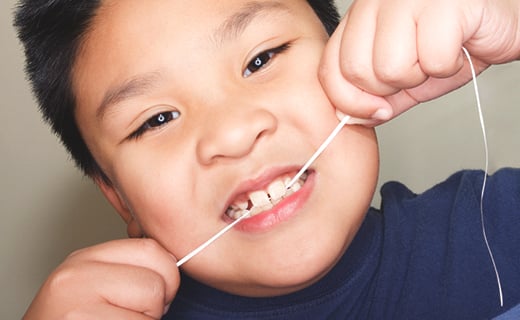 While we all make brushing a part of our day, too many people forgo flossing. Over the years, dentists have heard every excuse for forsaking the floss, but these people are only hurting themselves because flossing offers so many benefits. Yet by showing the truth to each excuse, perhaps people will see that floss is their friend.
Face it, everyone at every age needs to floss every day. Flossing can make a world of difference in your dental care. It can stop decay, prevent disease, and keep your smile clean and healthy. And with National Flossing Day on November 29, that silky strand is in the spotlight.
Yet despite its many dental care benefits, people keep finding excuses not to floss. But by explaining away these silly excuses, you'll see why flossing should make you smile.
The Excuse: Flossing takes too much time.
The Truth: According to experts in family dentistry, effective flossing takes three to four minutes, once a day. While it's better to take your time to get more value from your strand at hand, even 60 seconds of flossing can make a major difference in your dental care. And if you keep your floss near your toothbrush and toothpaste, then you won't need to spend time searching for it. Then before you know it, flossing will be a regular part of your dental care routine.
The Excuse: Flossing is too complicated.
The Truth: Flossing isn't easy at first, but practice makes perfect. Start with a long strand of floss and grasp it tightly between your thumbs and forefingers. Gently slide the floss in between teeth and move it up and down along the sides of each tooth. Repeat this process on every tooth with a fresh section of floss.
The Excuse: Flossing takes too much coordination.
The Truth: If you have poor coordination or health conditions that leave you with limited manual dexterity, you don't have to toss out the floss. Today, there are many tooth-cleaning options designed specifically for your needs. One choice is floss holders, which are disposable devices that hold a strand of floss between a Y-shaped prong to basically do the flossing for you. Other alternatives are disposable dental stimulators that reach deep between teeth, along with water jets that clean with a stream of water. 
The Excuse: Flossing is painful
The Truth: If you feel any discomfort when you're flossing, then you may already have gum disease. Ironically, one of the best ways to improve the condition is with regular flossing. Make an appointment with an expert in family dentistry to see if you need professional treatment. In the meantime, start brushing, flossing, and using an antibacterial mouthwash twice a day and the pain should subside in less than two weeks.
Hopefully, these facts have exposed every excuse and made flossing look better than ever.
To learn about our family dentistry practice in Virginia, call Dental One Associates of Virginia today at or make an appointment.
Dental One Associates offers affordable family dentistry and gentle, compassionate dental care in Virginia. With 4 affiliated practices throughout Virginia, our offices are conveniently located with extended hours to meet your needs. At Dental One Associates of Virginia, we provide most dental services, from basic preventative care and general dentistry to specialized procedures and complete dental reconstruction. We accept most dental insurance plans and offer affordable financial solutions for any budget. Patient satisfaction is our top priority and we strive to provide the exceptional, affordable dental care and personal touch that lead to lasting relationships. A smiling patient is our greatest reward and we look forward to keeping those smiles healthy, beautiful, and bright. Discover an affordable dentist who truly cares at Dental One Associates of Virginia.