The Art of Teaching Kids to Brush their Teeth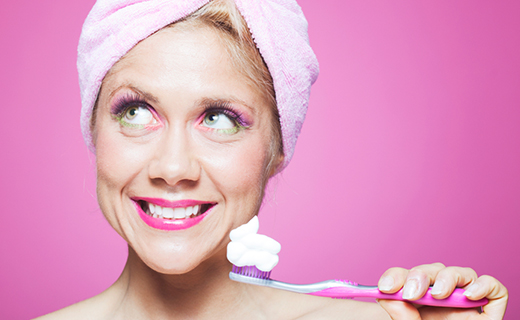 Being a parent is tough. For some reason, the moment kids decide to assert their authority is often the moment they are being asked to brush their teeth. If you thought you were the only parent to experience this, you should know you're certainly not alone. All toddlers test their boundaries in an effort to figure out exactly how the world works. Despite the fact that dental care may be a favorite act of defiance, it's still important for parents to remember that brushing teeth is not an optional activity, even for very young children. In addition to routine visits to an affordable dentist in Virginia, tooth brushing is essential for preventing tooth decay, reducing the risk of gum disease, and setting your child up for lifelong healthy dental care habits.
Use these tips to turn tooth brushing into an art form (well, almost).
Start brushing early. As soon as your child's first tooth emerges, it's time to establish a dental care routine. You can get your child familiar with dental care by wiping your baby's gums with a damp washcloth after every feeding.
Make brushing fun from the outset. Allow them to pick out their own toothbrush and toothpaste so they feel as if they are in control of brushing. They may pick a toothbrush that has their favorite character on it and then look forward to brushing.
Turn brushing sessions into moments of play:
Make it a game. Pretend to search for hidden food in your child's mouth: "Where are the eggs you ate for breakfast? They must be in here somewhere!" Make it silly and fun for your child.
Play music. Music will create a fun ambiance and you can use the music to ensure your child brushes for the recommended two minutes.
Include a friend. Involve your child's favorite doll or stuffed animal in tooth brushing. Allow your child to brush their toy's teeth as well.
Include the whole family. When your child brushes, you should brush, too. If siblings and your spouse are available, the whole family can brush together.
Schedule brushing times strategically. Schedule brushing before a desirable activity, such as story time. Associating tooth brushing with activities your kids look forward to will improve the chances that they will brush without resistance.
Be consistent. Schedule tooth brushing for the same time each night so your child will know what to expect and you can better instill the dental care routine.
Set an example. Children will mimic almost everything you do. If you practice good oral hygiene, your child will too. Be enthusiastic about dental care and share that with your child—including visits to an affordable dentist in Virginia.
Give rewards. Reward your child with a sticker each time they brush their teeth without a fuss. Set a goal to earn a prize, such as an extra bedtime story one night.
To learn about our family dentistry practice in Virginia, call Dental One Associates of Virginia today at or make an appointment.
Dental One Associates offers affordable family dentistry and gentle, compassionate dental care in Virginia. With 4 affiliated practices throughout Virginia, our offices are conveniently located with extended hours to meet your needs. At Dental One Associates of Virginia, we provide most dental services, from basic preventative care and general dentistry to specialized procedures and complete dental reconstruction. We accept most dental insurance plans and offer affordable financial solutions for any budget. Patient satisfaction is our top priority and we strive to provide the exceptional, affordable dental care and personal touch that lead to lasting relationships. A smiling patient is our greatest reward and we look forward to keeping those smiles healthy, beautiful, and bright. Discover an affordable dentist who truly cares at Dental One Associates of Virginia.