Soothing the Most Sensitive Teeth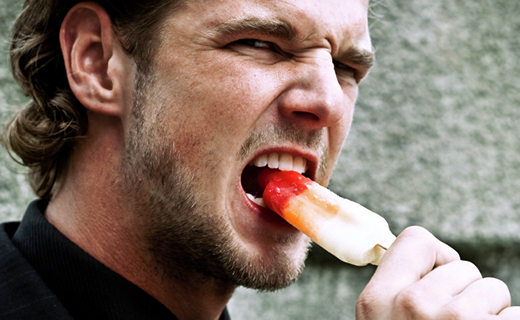 The sharp, yet fleeting pain that sometimes comes from eating or drinking something that is extremely hot or cold is something all too many of us have experienced. In most instances, this discomfort is due to enamel erosion and subsequent exposure of a substance known as dentin. When the dentin is exposed, the nerve beneath is vulnerable to irritation by heat, cold and acidity contained in foods and drinks. If tooth sensitivity has interfered with your ability to enjoy life, take heart. The tips below can help you find real relief.
To determine if your tooth pain is the result of sensitive teeth, have a dental examination performed by a skilled, affordable dentist in Virginia. It may be that your tooth sensitivity is actually a result of a cavity or gum disease, but whatever the cause, there are dental care treatments that can ease your pain and discomfort.
If your sensitive teeth are caused by erosion of the tooth enamel and exposure of the dentin, there are options available for treating tooth sensitivity at the dentist, or effective dental care techniques you can use at home. Your dentist in Virginia can apply a fluoride-containing varnish or foam to strengthen the tooth's enamel and reduce exposure of the dentin. Or, your family dentistry professional could opt to use a bonding agent that will help to seal the dentin and act as a barrier to painful stimuli.
Home dental care for treating tooth sensitivity includes using a low-abrasive toothpaste and brushing with a soft-bristled brush, using gentle, circular motions. Also, there are toothpastes formulated specifically for sensitive teeth that can provide relief. Your dentist may suggest using a special toothpaste with a high fluoride concentration to help increase the strength of the tooth enamel.
To get the dental care you deserve from an affordable dentist in Virginia, call Dental One Associates of Virginia today at or make an appointment.
Dental One Associates offers affordable family dentistry and gentle, compassionate dental care in Virginia. With 4 affiliated practices throughout Virginia, our offices are conveniently located with extended hours to meet your needs. At Dental One Associates of Virginia, we provide most dental services, from basic preventative care and general dentistry to specialized procedures and complete dental reconstruction. We accept most dental insurance plans and offer affordable financial solutions for any budget. Patient satisfaction is our top priority and we strive to provide the exceptional, affordable dental care and personal touch that lead to lasting relationships. A smiling patient is our greatest reward and we look forward to keeping those smiles healthy, beautiful, and bright. Discover an affordable dentist who truly cares at Dental One Associates of Virginia.