Cavity Prevention for a Healthy Smile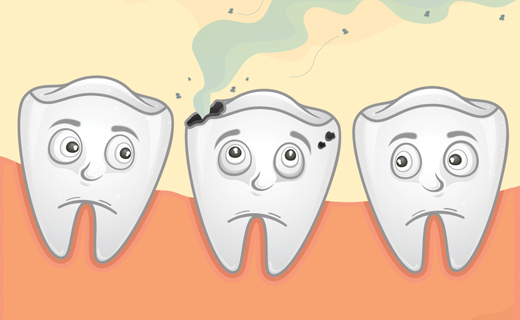 Tooth decay, also called cavities or dental caries, is a condition common to people all over the world. Cavities are not life threatening and you can easily prevent them, but tooth decay affects almost everyone at some point in life. Bacteria that live inside the mouth form a sticky substance called plaque on the surfaces of teeth. The plaque interacts with starches and sugars in residual food and produces acids that dissolve or de-mineralize tooth enamel; this weakens the tooth structure and causes deterioration. Carbohydrate-filled foods that contribute to tooth decay include soda, candy, cake, ice cream, milk, and even high-sugar fruits, vegetables, and juices.
Cavity Prevention Essentials
Saliva acts as a buffer and remineralizing agent to combat the acids formed by plaque. Therefore, anything that increases saliva production can fight cavities. Dentists often suggest sugarless gum as a way to stimulate saliva flow. Although this natural defense is effective, it is not enough to prevent cavities. The most important weapons against tooth decay are good oral hygiene and fluoride. Brushing and flossing daily are imperative. Fluoride is an agent that can rebuild damage caused by plaque bacteria by remineralizing the tooth structure. It is present in toothpaste, some bottled and canned beverages, and tap water.
The Dentist Can Help
Affordable dentists are valuable allies in the war against cavities. They can help the children tooth decay targets by applying dental sealants. These thin, plastic coatings are painted onto the chewing surfaces of teeth to form a barrier against plaque. Highly concentrated fluoride products such as gels, mouth rinses and oral supplements can also help, especially when patients do not get fluoride from the water they drink. Parents should ask their family dentists for more information about professional cavity-fighting treatments.
To learn about our family dentistry practice in Virginia, call Dental One Associates of Virginia today at or make an appointment.
Dental One Associates offers affordable family dentistry and gentle, compassionate dental care in Virginia. With 6 affiliated practices throughout Virginia, our offices are conveniently located with extended hours to meet your needs. At Dental One Associates of Virginia, we provide most dental services, from basic preventative care and general dentistry to specialized procedures and complete dental reconstruction. We accept most dental insurance plans and offer affordable financial solutions for any budget. Patient satisfaction is our top priority and we strive to provide the exceptional, affordable dental care and personal touch that lead to lasting relationships. A smiling patient is our greatest reward and we look forward to keeping those smiles healthy, beautiful, and bright. Discover an affordable dentist who truly cares at Dental One Associates of Virginia.