All About Orthodontics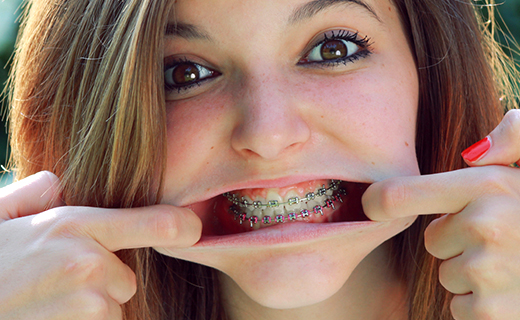 Orthodontics are most commonly associated with the adolescent and teenage years, however, this field of dentistry can help people of all ages diagnose, prevent, and treat irregularities of the teeth and face. Treatments often include the use of braces and removable dental appliances. Orthodontists use these tools to correct an irregular "bite" (such as an overbite or under bite), straighten teeth, eliminate gaps, and appropriately align teeth and lips. Some orthodontists may offer cosmetic dentistry services and implants as well. Braces for kids can address issues associated with eruption of the permanent teeth and jaw growth. These conditions may be inherited or caused by irregular growth patterns of the teeth and jaw or a trauma. In any case, orthodontics can help.
Orthodontic care is optional. Unlike routine visits to the dentist, trips to the family orthodontics expert are a personal decision. Orthodontics can enhance chewing or speech and improve appearance by realigning teeth and jaw lines. These attributes give many people greater self-confidence, improving mental and physical health outcomes.
While orthodontic care is cosmetic in nature, it can offer substantial benefits to your dental health throughout your lifetime—a primary reason for investing in braces for kids. Teeth that are straight and properly aligned are easier to care for; brushing and flossing become less complex, helping to reduce the risk of tooth decay. Investing in your teeth can also prevent inflammation of the gums, known as gingivitis, and a precursor to the more serious form of gum disease, periodontitis, which destroys the bone surrounding the teeth.
Orthodontics can benefit your overall health, too. Individuals suffering from a misaligned bite may also achieve added overall health benefits from orthodontics. A bad bite can lead to issues with chewing, inhibiting nutrient absorption of certain foods. Speech difficulties can also be an outcome of a bad bite or misaligned teeth. In these cases, a combination of orthodontics and speech therapy are often required. Correcting a misaligned bite with braces can help to prevent premature wear of back teeth surfaces. Each time you bite down, your teeth are put under a substantial amount of force. Front teeth that don't align properly can lead to greater wear and tear on the back teeth.
Anyone can benefit from braces, but the process is more complex for adults. This is why screening your kids for orthodontics after the age of 7 is valuable to their future health. Correcting oral issues at an early age can improve outcomes for life and affordable braces or orthodontic payment options are available. Ask you dental care professional. He or she can make recommendations to ensure that you or your child achieve a smile that is nothing less than perfect.
To get the dental care you deserve from an affordable dentist in Virginia, call Dental One Associates of Virginia today at or make an appointment.
Dental One Associates offers affordable family dentistry and gentle, compassionate dental care in Virginia. With 4 affiliated practices throughout Virginia, our offices are conveniently located with extended hours to meet your needs. At Dental One Associates of Virginia, we provide most dental services, from basic preventative care and general dentistry to specialized procedures and complete dental reconstruction. We accept most dental insurance plans and offer affordable financial solutions for any budget. Patient satisfaction is our top priority and we strive to provide the exceptional, affordable dental care and personal touch that lead to lasting relationships. A smiling patient is our greatest reward and we look forward to keeping those smiles healthy, beautiful, and bright. Discover an affordable dentist who truly cares at Dental One Associates of Virginia.